"To give anything less than your best is to sacrifice the gift" – Steve Prefontaine
I started running just shy of my 13th birthday, in 2014. Since then, I have made some of my best memories, met some of my best friends, and grown as a person in ways I could not have imagined.
Running has taught me to push the limits of what I thought was possible for myself, both mentally and physically. I learned it's always worth doing the extra rep or picking up the pace, whether on the track or in my other daily endeavors. It taught me that when I think I've given everything I have, that's probably not true.

"Although it pains me to run harder, I always know stopping hurts more"                     –Unknown

Cross country and track has taught me how to push through and truly give everything I have in me. I am not satisfied until I do the best I know I am capable of. I owe this mindset to many years within the sport, and it inspires me to see each new generation of runners experiencing that same shift in belief.
When you learn to give your all, there is no such thing as losing.
"Find a pace you can't maintain, then maintain it" –Unknown
But through this sport, I also learned it is okay to feel. It is okay to cry, and scream, and cheer, or anything else, and it is okay to reach out, whether for support or for someone to celebrate with. Results will not come in a day, in a week, or sometimes even in a month or a year. Sometimes results won't come for longer.
I know it is okay to step back from and reevaluate goals. I know it is important not to forget goals, even while stepping back. If anything, knowing the buildup and years of unseen effort paid off can be the most rewarding thing one could ask for.
"The body achieves what the mind believes" –Napoleon Hill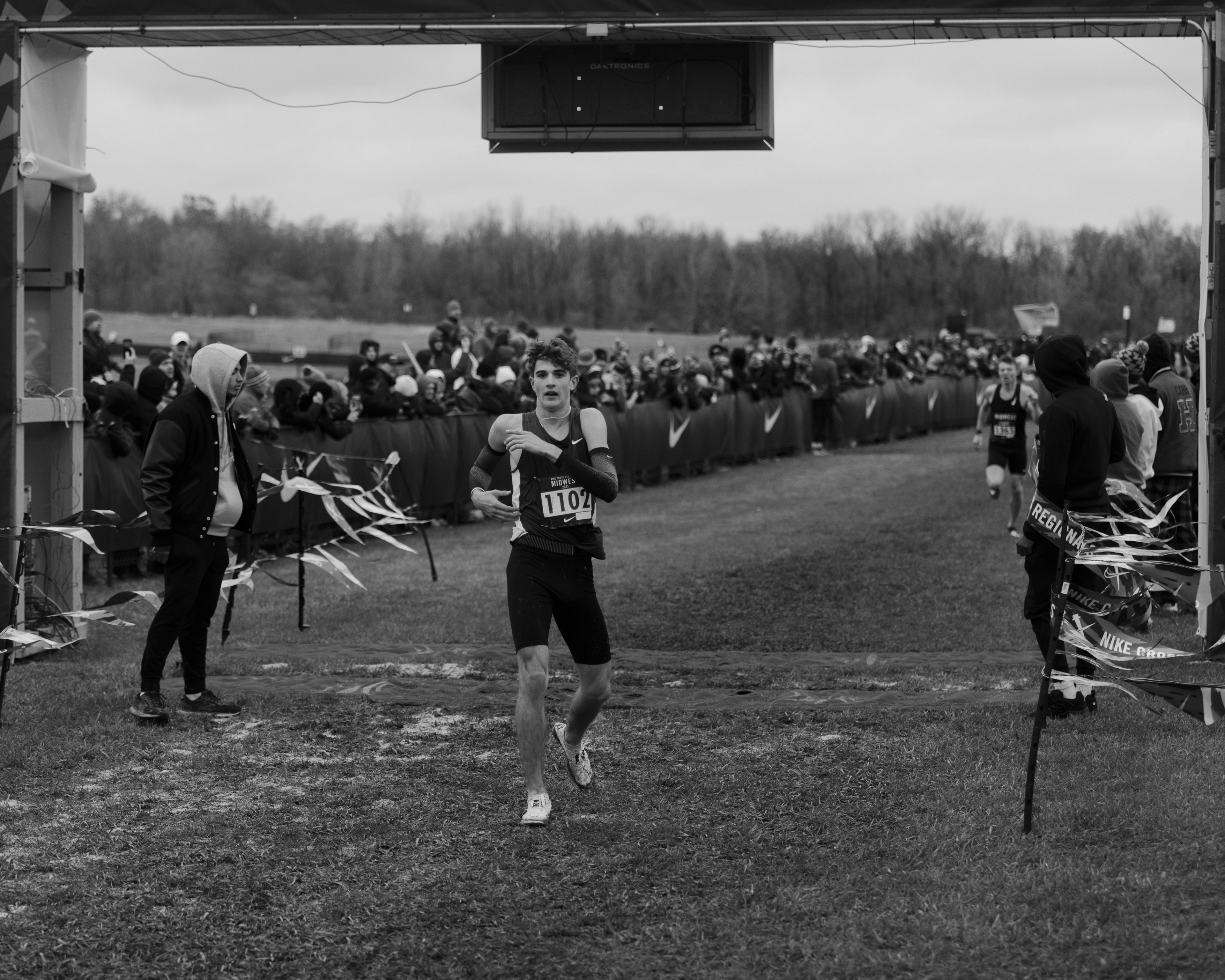 In concept, running is just a simple forward motion. The ultimate goal is to put one foot in front of the other, and do it quickly. But it is not always about moving ahead.
Going on a run forces me to be inside my thoughts for however many miles I'm running. It gives me a chance for reflection. It allows me time to think without distraction, which is an invaluable benefit I sometimes take for granted. It gives me time to think about how far I've come since days long past. Sometimes this is just as important as planning for the future.
The sport also gives me a chance to share these moments with friends who I have been running and building tradition with for year after year. There is nothing quite like the understanding that comes with that bond, runner to runner.
I cannot thank cross country and track enough for all it has given me over the years. Regardless, I know that, just like anything else in life, it would have given me nothing had I not given it everything.
"Perfection is not attainable, but if we chase perfection, we can catch excellence"         –Vince Lombardi